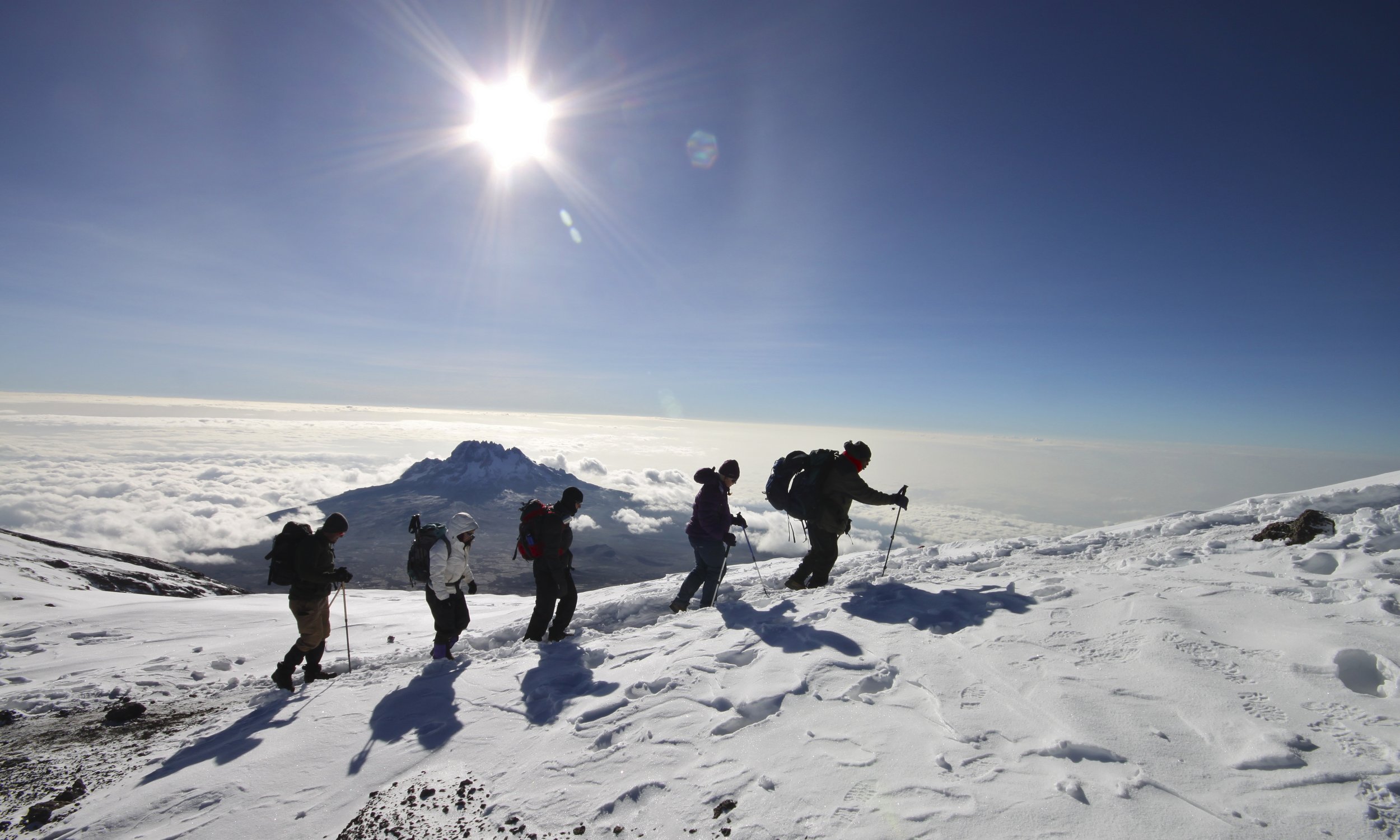 MOMENTS ADVENTURING, EXPLORING, RELAXING.
Mount Kenya
Arguably the most beautiful peak in Africa and Kilimanjaro's more rugged, quieter cousin. Join us for a climb which can be completed within a week from anywhere in Europe.
Ngorongoro Highlands Trek
A unique trek through the Ngorongoro Highlands with a finale hiking into the Lake Natron basin past an active volcano..
Kilimanjaro - Lemosho
The classic 8 day Kilimanjaro trek, traversing the mountain from West to East, with plenty of time to acclimatise. We have an unparalleled 100% success rate on this route.
Kilimanjaro - Machame
The Machame route on Kilimanjaro is a perfect all rounder, and no wonder it's the most popular.
Mount Toubkal
Mount Toubkal, the highest peak in North Africa, is located in the Atlas Mountains and stands at an impressive 4,167 metres above sea level.
Kilimanjaro - Rongai
A trek to the Roof of Africa via the quiet and beautiful Rongai Route. .
Summit to Sahara
Climb Mount Toubkal, before jetting to the Sahara for a multi day desert trek.
Kilimanjaro - The Hard Way
Climb Kilimanjaro via the famous and technical Western Breach
Hike the Sahara
A multi day hike amongst the vast dunes, staying in luxury Bedouin camps.
Bhutan Discovery
A challenging trek in the Forbidden Kingdom, and staying at the beautiful COMO Uma Paro.
Bhutan Explorer
A challenging trek combined with two COMO hotels, this adventure is the best of both worlds
Everest Base Camp
The classic trek to Mt Everest Base Camp, led by a Mt Everest Summiteer
The Everest Marathon
Run the Highest Marathon on Earth, in the shadow of Mt Everest- plus climb Lobuche East.
Fjords of Norway
Explore the fjords by sea kayak and climb Saksa Peak.
Iceland
Volcanoes and hot springs in the land of Fire and Ice.
Ski Touring, Norway
Magnificent scenery & untouched powder. Where the mountains meet the ocean.
Peru Inca Adventure
From the Amazon to Machu Picchu, there is enough here to fill a lifetime of adventure.